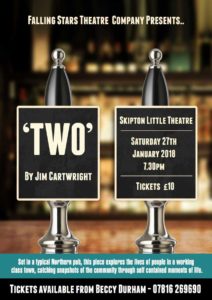 Skipton Little Theatre is pleased to announce an extra production in our 2018 season. This play is in addition to our normal season and is not part of the theatre subscription plan.

Falling Stars Theatre Company present 'Two' by Jim Cartwright.  A Dramatic Comedy.

A bickering husband and wife and the dozen regulars who pass through their pub in an evening. Each vignette skillfully combines pathos and humor. When a little boy is left behind by his father, a fragile reconciliation occurs as their own dark tragedy is revealed.

"Astonishing, funny and sad." – Daily Express

"Entertainment of a very high calibre." – Sunday Correspondent

"Vastly entertaining." – Jewish Chronicle

"Go to laugh and be moved." – City Limits

"Absolutely riveting." – Daily Telegraph


The Play performance date is Saturday, 27th January 2018.  Doors open at 7pm and the show starts at 7.30pm. Tickets are £10 and available from Beccy Durham 07816269690 in advance or pay on the door. A concession price of £5 is available for students and under 16s.

Falling Stars Theatre company was formed 3 years ago to create innovative, immersive and exciting Theatre for Glusburn's Fallfest. Directed by Rebecca Durham, a Drama teacher at Guiseley School.